Bluesource is your trusted partner for Microsoft O365, Teams, Compliance Center, Advanced eDiscovery, Azure, and Data Migrations. We help users with best in class deployment, training, consulting, and can even full environment management. By working with Bluesource, you can optimize your in-house IT and legal teams' workflow, helping you ensure you get the most out of your investments.

Microsoft 365
Readiness assessment & Gap analysis – Designed to support your journey to the Cloud, Bluesource enables you to understand the implications of moving existing solutions, provides you with a gap analysis that identifies areas requiring investment and attention, provides recommendation for next steps, and outlines implementation options.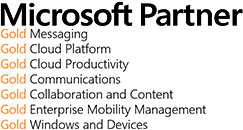 Tenant Deployment
Migrations – With more than 16 years of migration experience, if you are on or looking to go to Microsoft 365, we can ensure seamless and quick integration.

eDiscovery, Compliance, and Information Governance – By working with Bluesource, you can free up time for your in-house IT and legal teams. Our experts can scope, implement, support, and manage everything remotely via a secure connection with Two-Factor Authentication. We'll even work with you and your legal teams to optimize your EDRM workflow.
Ongoing training, enablement and support

Exchange On-Premises
Health Checks – Monitoring the health of your Exchange server helps you detect any failures or irregularities that might disrupt the normal functioning of your organization. It is crucial that you analyze the performance, security and operations related to the server components to mitigate any impending threats.
Upgrades
Migrations – Throughout our history, we have architected large scale Microsoft Exchange deployments and migrated many millions of users from Exchange, Groupwise, Lotus Notes and UNIX based systems to Exchange on-premises and Exchange Online (now part of Office 365).
Bluesource has more than 300 Veritas and Microsoft Technical Accreditations