In the cloud-world, many organizations are adopting for a flexible "work from anywhere, any device" approach, organizations therefore need to empower employees to be secure and productive on any device, anywhere.

Microsoft Enterprise Mobility + Security (EMS)
Microsoft Enterprise Mobility + Security (EMS) is an intelligent mobility management and security platform. It helps protect and secure your organization and empowers your employees to work in new and flexible ways.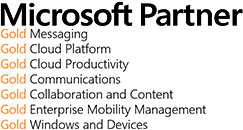 Solutions
Threat Protection — Protect your critical business data from malware, ransomware, and insider threat. Learn about M365's Standard and Advanced Threat Protection, and let the experts at Bluesource implement a solution for your business requirements.
M365 Security Center — Let Bluesource help your business leverage all of the features of the new M365 Security Center. With Secure Score, Device Management, Analytics, and more, it can be tough to know where to begin.
Modern Device Management — Secure proprietary data that users access from their company-owned and personal mobile devices with Microsoft Intune. Intune includes device and app configuration policies, software update policies, and installation statuses (charts, tables, and reports) to help you secure and monitor data access.
Modern Identity Management — Enable secure remote work by connecting all your cloud apps and use unlimited single sign-on (SSO) and multi-factor authentication (MFA) with Azure Active Directory.
Why Bluesource
Cloud technology is changing at a rapid speed. We see new technologies and solutions emerge every month, if not every day. It is therefore difficult for in house IT professionals to keep up with constantly changing cloud technology and solutions.
Microsoft EMS is a set of tools that are deeply integrated, making one small change can affect the whole integrated platform. You therefore need an expert like Bluesource, a Microsoft Gold partner, who knows Microsoft EMS inside out, enabling you to always stay on top of the latest technology and emerging trends and ensure your data is protected and governed.